Berichten: 7595
Lid geworden op: 30 dec 2004 16:02
Locatie: Fergus, ON
Contacteer:
Zal zo'n vaart niet lopen Frans.
Het kanaal is anderhalf uur rijden van hier.

Groet,
Jan.
Vriendelijke groet
Jan.


Varen is noodzakelijk
Leven niet
---
Berichten: 4257
Lid geworden op: 01 mar 2006 15:04
Locatie: 's-Gravenzande
Voor mij is de Pistoolhaven drie kwartier rijden en slag Maasmond een uur rijden Jan.
Dus kom op je bent nog geen 90 jaar.


Frans
Luctor et Salutem
( Ik worstel en Groet u )
---
Berichten: 7595
Lid geworden op: 30 dec 2004 16:02
Locatie: Fergus, ON
Contacteer:
[/url]
THUNDER BAY
[url=
https://postimages.org/
]
Lake Superior nog vol met ijs
Lake Huron en Lake Michigan open,
Lake Erie nog dicht en
Lake Ontario is ook open
De "Thunder Bay" van CSL was het eerste schip door het Welland Canal opvarig.
Afvarig was de "Algoma Spirit"
Foto's Will VanDorp.
CBC Nieuws
The Canadian Coast Guard (CCG) ship Samuel Risley has left Sault Ste. Marie, Ont., and is enroute to Thunder Bay to begin icebreaking operations in the northwestern Ontario city's port as early as March 24.
The ice covering the bay this year is about 70 centimetres thick, said Mike Brown, an icebreaking operations officer at the CCG Icebreaking Centre in Montreal.
"It's fast ice, meaning that it's not mobile. It's completely covered the water and all of Lake Superior we are looking at above 90 per cent total coverage on the lake," he said.
"The last three years have been quite a bit below average, so this year it seems like it's a lot more heavy ice than there has been, but it's really just slightly above average."
Brown said the Canadian and United States Coast Guards work together to deliver icebreaking services on the Great Lakes and connecting waterways. For instance, American ships, the Mackinaw and the Alder, have been dispatched to Duluth, Minn., and Superior, Wis., respectively, but could be called into action in Canadian waters if required.
Icebreaking crews have reported "challenging" conditions on Lake Superior, said Brown, and that means it could take at least a day, or more, to carve a path through the ice in the Thunder Bay harbour.
"If conditions are significant, we can also bring in additional assets to assist the Samuel Risley and that could be, for example, the Mackinaw is a suitable icebreaker that we have had discussions about sending her up to assist as well, so it could be a number of days of operation."
The coast guard is recommending all recreational users of the ice – pedestrians, fishers, snowmobilers, all-terrain vehicle (ATV) operators – leave the ice during icebreaking operations, because they can create unstable conditions.
"Icebreaker tracks can refreeze over and can easily be hidden by fresh snow and so it certainly can be dangerous."
CBC
Vriendelijke groet
Jan.


Varen is noodzakelijk
Leven niet
---
Berichten: 4257
Lid geworden op: 01 mar 2006 15:04
Locatie: 's-Gravenzande
Er is weer actie Jan.

Frans
Luctor et Salutem
( Ik worstel en Groet u )
---
Berichten: 7595
Lid geworden op: 30 dec 2004 16:02
Locatie: Fergus, ON
Contacteer: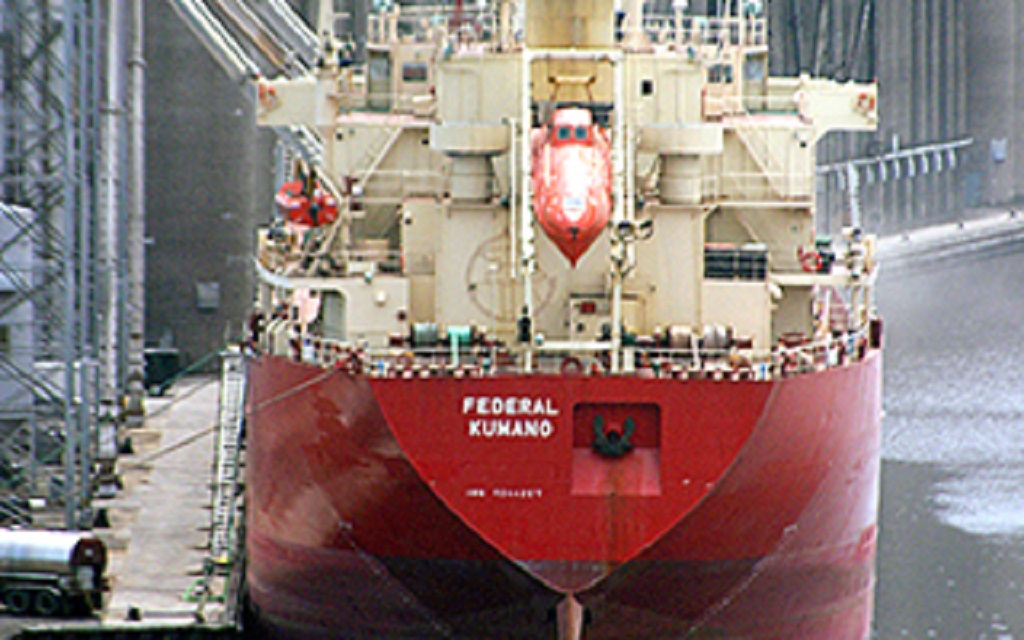 [/url]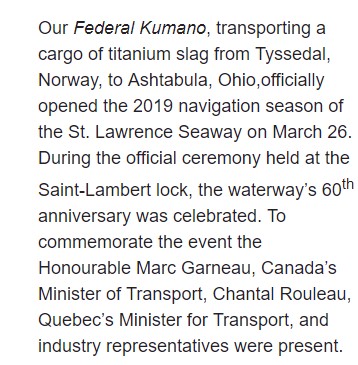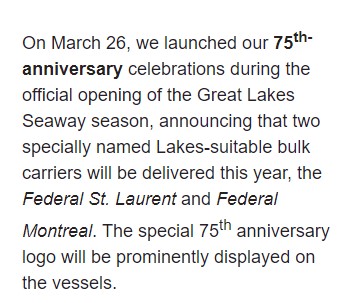 The Fednav Current.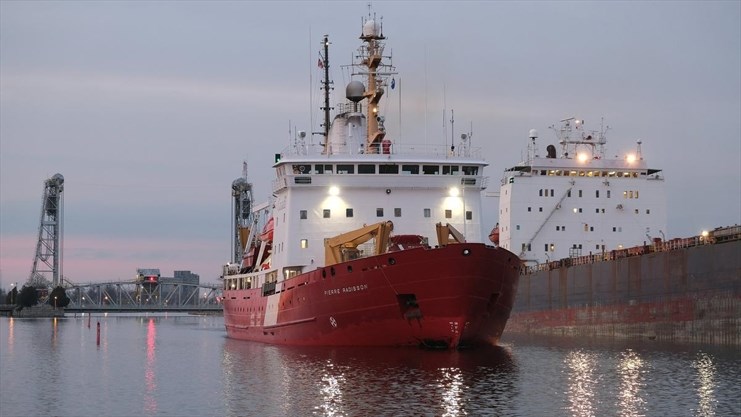 Port Colborne , ON – As two Canadian Coast Guard icebreakers work to clear severe ice off of Port Colborne, at least a dozen vessels are being held up in the Welland Canal and just offshore. The delay is proving costly for ship owners, said Gregg Ruhl, president and chief executive officer of St. Catharines-based Algoma Central Corp.
"We have seven ships in the canal waiting to go that direction," Ruhl said Tuesday.
The direction he's referring to is upbound — vessels headed from Lake Ontario to Lake Erie. "It's very costly … we have seven ships and for every day we lose, we lose a round-trip voyage."
Algoma and competitor Canada Steamship Lines (CSL) are constantly moving through the canal with cargoes to and from ports across the Great Lakes. Right now, it's only Canadian vessels being held up. Ocean-going vessels have yet to make their way to the canal.
Ruhl said in addition to the financial cost to Algoma, the delay creates a reduction in capacity for the 2019 season. "We're booked full every day and we can't make that back up," he said.
An email from the Canadian Coast Guard said its icebreakers CCGS Griffon and CCGS Pierre Radisson are encountering ice ridges between 2.5 and three metres high off of Port Colborne. The Griffon had been working to clear offshore of the city when the canal opened last Friday and had been joined by the U.S. Coast Guard cutter Bristol Bay.
Canada and the U.S. share icebreaking duties on the Great Lakes, with vessels working wherever needed on either side of the border.
The Coast Guard said to break the ice in the shipping lanes and mouth of the Welland Canal, the icebreakers move forward, stop, back up and then power forward.
The federal agency said the icebreakers will continue to break tracks until conditions are safe to perform escorts through the ice and that the Griffon will stay in the area until conditions improve and the ice can be safely handled by one icebreaker.
"The Coast Guard continues to maintain regular communication with industry and local stakeholders in order to prioritize work," it said in the email.
Ruhl was betting the Algoma vessels on the Welland Canal would start moving through the ice Wednesday.
Welland Tribune
Read more and view a photo gallery at this link:
https://www.wellandtribune.ca/news-stor ... and-canal/
Vriendelijke groet
Jan.


Varen is noodzakelijk
Leven niet
---
Berichten: 7595
Lid geworden op: 30 dec 2004 16:02
Locatie: Fergus, ON
Contacteer:
Interlake Steamship Co. to build new Great Lakes self-unloader at Bay Shipbuilding
4/9 - Sturgeon Bay Wis. – A U.S.-flagged Great Lakes bulk carrier will be built for the first time in more than 35 years thanks to a historic agreement recently signed between The Interlake Steamship Co. and Fincantieri Bay Shipbuilding.
The new River-class, self-unloading bulk carrier is believed to be the first ship for U.S. Great Lakes service built on the Great Lakes since 1983. The ship, which will transport raw materials to support manufacturing throughout the Great Lakes region, also represents hundreds of good-paying jobs for U.S. Merchant Mariners and Wisconsin shipyard workers.
Measuring 639 feet in length (78 feet W, 45 feet H, 28,000 DWT), the vessel will be constructed in Sturgeon Bay, WI. The Interlake Steamship Co., headquartered in Middleburg Heights, OH, is the largest privately held U.S.-flag fleet on the Great Lakes, with nine vessels carrying bulk cargoes and a rich history dating more than 100 years.
"When we approached a historic project of this magnitude – building our company's first ship since 1981 – we knew it was critical to choose the right partners. Fincantieri Bay Shipbuilding is the shipyard that has the experience and skill to execute on our long-term vision," said Interlake President Mark W. Barker, adding that this specific vessel is being built as the result of listening to and addressing the logistical needs of Interlake's customers.
"We've had a long and positive relationship of partnering with Fincantieri Bay Shipbuilding as we have modernized and reinvested heavily in our fleet. They have skillfully handled four repowers, five exhaust gas scrubber installations, as well as regular maintenance and regulatory dry-dockings on our vessels."
The Interlake Steamship Co., Fincantieri Bay Shipbuilding and Bay Engineering are jointly designing the bulk carrier, complete with advanced vessel and unloading systems automation.
"We are excited to construct this historic large-scale bulk carrier on the Great Lakes for Great Lakes operation," says Fincantieri Bay Shipbuilding's Vice President and General Manager Todd Thayse.
"We are very proud of our long-term relationship with Interlake, and we appreciate their continued confidence in our shipyard and in our shipbuilding team. This new project and our past work are indicative of the quality and attention to detail that our customers have come to expect from Fincantieri Bay Shipbuilding. It brings steady employment to the hundreds of women and men we employ from across the region, and the economic benefit to our suppliers and others is widespread," he added.
Scheduled for completion in mid-2022, the carrier will be built by Fincantieri's nearly 700 skilled trade workers and will generate business for partnering contractors, vendors and suppliers. Major partners for the project include American Bureau of Shipping (ABS); Bay Engineering (BEI); EMD Engines; Caterpillar; EMS-Tech, Inc.; Lufkin (a GE Company) and MacGregor.
"The Interlake Steamship Company is also extremely proud to build locally, supporting surrounding communities and states – a legacy that we began more than 100 years ago," Barker says. "We live and work in the Great Lakes region and promoting growth and the positive economic impact of Great Lakes shipping is integral to our mission and vision as a leader in this industry."
• Cargo: This newest self-unloading bulk carrier has a unique cargo hold arrangement and cargo hatch covers designed for maximum cubic space and the ability to handle difficult cargoes.
• Maneuverability: The vessel incorporates a flap rudder as well as bow and stern thrusters for high-level of maneuverability.
• Environmentally friendly: All aspects of the vessel have been looked at to ensure that it will have a low environmental impact to the Great Lakes and to those who work aboard. The hull has been optimized for efficacy and all systems have been designed to ensure low energy consumption.
• Power and speed: The vessel is designed for 7,800 shaft horsepower produced by two sixteen-cylinder Electro-Motive Diesel (EMD) diesel engines that are EPA Tier 4 and IMO Tier III certified and is expected to have a top speed in excess of 15 m.p.h.
• Propulsion: The vessel will be propelled by a single-screw, 18' diameter, Konsberg, controllable pitch propeller.
• Electrical Power: For its electrical power requirements, the vessel is provided with one 940 kW ship service diesel generator, two 2500 kW shaft generators and one 274 kW emergency generator.
The Interlake Steamship Co.

Vriendelijke groet
Jan.


Varen is noodzakelijk
Leven niet
---
Berichten: 7595
Lid geworden op: 30 dec 2004 16:02
Locatie: Fergus, ON
Contacteer:
Vriendelijke groet
Jan.


Varen is noodzakelijk
Leven niet
---
Berichten: 7595
Lid geworden op: 30 dec 2004 16:02
Locatie: Fergus, ON
Contacteer:
Vriendelijke groet
Jan.


Varen is noodzakelijk
Leven niet
---
Berichten: 7595
Lid geworden op: 30 dec 2004 16:02
Locatie: Fergus, ON
Contacteer:
Vriendelijke groet
Jan.


Varen is noodzakelijk
Leven niet
---
Berichten: 7595
Lid geworden op: 30 dec 2004 16:02
Locatie: Fergus, ON
Contacteer:
Vriendelijke groet
Jan.


Varen is noodzakelijk
Leven niet
---