Berichten: 7459
Lid geworden op: 30 dec 2004 16:02
Locatie: Fergus, ON
Contacteer:
Saturday 31 December 2016 Lloyds List

Stress testing
Thursday 29 December 2016
by Michael Grey

UNDER the glass of the chart table, in the chartrooms of 10,000 ships and in umpteen languages, appropriate to that spoken on board, was once to be found an ironic, non-navigational, observation.
"You don't have to be mad to work here — but it helps!" was a decent enough joke in its time, but in recent years, it has rather lost its resonance with those on board ship.
Of course they don't have chart tables in the all-singing, all-dancing, fully integrated e-navigational workstations that delight modern seafarers. Maybe they just affix Post-It notes to some convenient bulkhead. That is, if they have any vestiges of humour left in their stressed lives.
All of which becomes less likely, if you consider the amount of effort that is currently being put into the mental wellbeing of seafarers, largely on account of their straitened, socially impoverished existence.
Just the other day, The Shipowners' P&I Club, in conjunction with the International Seafarers' Welfare and Assistance Network, produced their latest crew health information, with two eminently sensible and practical papers on the maintenance of mental wellbeing; one focusing on mental problems and the other looking at the negatives and positives of digital technology upon the isolated seafarer.

A few remarks leap out at the reader.
"Many of the remedies for minor problems are in the hands of those who create the conditions under which seafarers work and live..."
"Owners know that seafarers' health is of paramount importance..."
"Mental health continues to be a cause of Club claims..."
There is clearly no shortage of academic rigour that has gone into this work, and we should appreciate and acknowledge it. But you don't have to be a professor of clinical psychiatry to identify the reasons for the upsurge in mental problems and the consequences of serious social isolation.
These, any intelligent seafarer will tell you, are the products of the way that modern merchant ships are manned and operated and almost certainly contributed to by their design, in which the needs of the crew tend to be a minute afterthought in the minds of those responsible.
So, who creates the conditions that give rise to these problems? If you are looking at root causes, it is the lack of reasonable reward for people who operate ships, forcing them to run them on what we would call "the smell of an oily rag", with intense concentration upon the reduction of running costs.
The Steamship paper underlines the importance of "a mutually supportive team", but where is the social cohesion and team spirit in a gang of overworked people who barely comprehend each other and are plucked from different cultures?

It speaks about the importance of morale, and all of us who have served at sea know the problems of an "unhappy" ship and the fun you can have when the opposite is the case.
There are some hopeful pictures of some seamen playing basketball (quite where is unclear), but when you speak to seafarers today, "fun" seems to be an unknown quantity and we maybe ought to learn why.
There are hints; people are worried about criminalisation, shift patterns, the quality of sleep, pressure of inspections and commercial pressures, fast turnarounds with no chance of a spell ashore, language, strangers rather than colleagues.

Then there is the "end of solidarity and sociability", with people shut away in their cabins using their devices. No wonder there is stress and burnout, even real depression, when the voyage goes on and on, in such miserable circumstances.
We might ask: who cares? Well, somebody does, and you would like to think it was because of more than claims on the P&I Club, from people who have been broken by the life they found they were leading. Iswan does and all credit to them.
But does anyone who operates ships, or who is responsible for their manning and operational scheduling, really care about this?
When I made several of these points at an international manning conference a few years ago, I was firmly told by somebody who might have been influential in these respects: —"This is what is on offer and you better put up with it!"

Does anyone who designs ships ever consider what it might be like to sail in them? On some of the biggest ships in the world, the designers are so consumed with the need to cram a few extra containers on board that people who live on these monsters can't even look out of their windows at the sea.
A really brilliant piece of design work even shoved the accommodation out of the way to load a few more boxes. "Seafarers," you could almost imagine them saying, "are such a nuisance!"
Designers do what they are asked, so it is those who write the specifications, who jolly well should be shanghaied and forced to spend four months in one of the hideous, utilitarian, monstrosities that answer their commercial requirements at the expense of those who live on board them, along with a dozen or so people who speak no known language.
"It's like a prison except that you aren't locked in," a junior officer on a containership once told me, "except when we go to the US, when we are."

Concern with the mental health of seafarers is admirable and overdue, but we should be addressing the root causes and not talking about the symptoms and diagnosis.
And, at the end of the day, it is all about money, saving costs, finding the cheapest crews on earth and surviving in an era when shipping just does not financially wash its industrial face.
We need to do better than that in a happier New Year.
Vriendelijke groet
Jan.


Varen is noodzakelijk
Leven niet
---
Neen, het is geen maritieme vraag.
Sinds enige tijd heb ik Windows 10 i.p.v. Windows XP.
We raden het al, ik kan er maar slecht mee overweg, met als gevolg dat ik de lijst met favoriete sites niet meer terug kan vinden. Dit was met XP erg simpel. Kijk ik nu ergens overheen of is het bij installeren van Windows 10, tegen alle waarschuwingen in, toch verloren gegaan ?.
Wie o wie kan mij, als computer vegetariër zijnde, uit de nood helpen ?.
B.v.d., m.v.g., Roy
---
Berichten: 7459
Lid geworden op: 30 dec 2004 16:02
Locatie: Fergus, ON
Contacteer:
Heb medelijden met je Roy.
Met mij is het zelfde gebeurd.
Weer terug naar de oude.
Vriendelijke groet
Jan.


Varen is noodzakelijk
Leven niet
---
Berichten: 996
Lid geworden op: 30 dec 2004 16:14
Locatie: Noord-Griekenland
Contacteer:
-------------------------------
Welke browser gebruik je, Roy?
De meegeleverde browser van Windows 10, Microsoft Edge, bevalt me niet en dus ben ik gelijk weer overgegaan op Chrome, maar ook als je de ingebouwde browser gebruikt, vind je daar immers, zoals bij elke browser, de functie "Favorieten importeren" ?
Dat kiik je aan, selecteert op het schermpje dat dan opent de browser die je voordien gebruikte en drukt op "importeren".
-------------------------------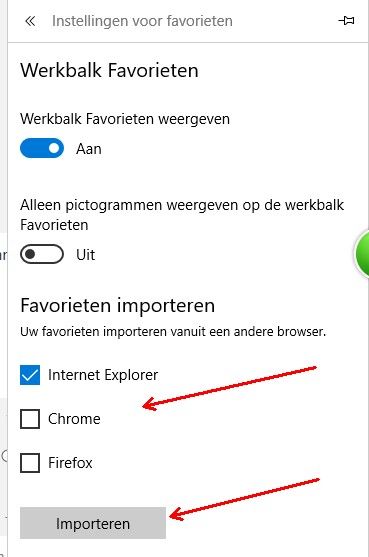 Besluit je later alsnog om een andere browser te gebruiken, dan doe je daar hetzelfde. Dat is nimmer een probleem, hoor.
Overigens kan het heel verfrissend zijn om je favorieten een keer vanaf niets opnieuw op te bouwen. Dat heb ik gedaan. Niet te geloven hoeveel sites er zijn die je jaren als favoriet had staan, maar waar je eigenlijk nooit meer kwam. Windows 10 bevalt mij uitstekend. Ondanks alle horror stories geen enkel probleem gehad. Net zomin als die browser bevalt ook het mailprogramma me niet en dus ik gebruik een ander. Maar overigens ... uitstekend.
---
Roy, het kan ook op een houtje-touwtje manier. Zelf ben ik ook vorig jaar van XP naar W10 overgestapt en heb al mijn Favorieten kunnen behouden (760 stuks, hoera).
Ik neem aan dat je je Favorieten vanuit W10 egens al apart hebt opgeslagen, toch? Je kunt ze daarna gewoon via een USB stick naar onderstaand plaatje copieren, waar iets als "
Roy H
", bij "
Gebruikers
" zal staan. Laat maar even weten, anders helpen we nog wel verder.
Bijlagen

roy.png (54.71 KiB) 1540 keer bekeken
Zonder ISPS en met TomTom en PingPing kwam je overal.
---
Zo.............., truc gelukt !.
Middels de aanwijzingen van Theo was het zo gefikst. Het was dus niet verloren gegaan waar ik bang voor was en wat Jan overkomen is.
Mare, de credits gaan niet naar mijn inzet toe hoor !.
Riny krijgt twee maal per week de fysio aan huis. Verbazingwekkend hoe handig die vogel is..............
Zo ook vandaag weer.
Wat kan het leven toch eenvoudig blijken te zijn.
Prettige avond, m.v.g., Roy
---
Wie weet In welk topic onlangs foto's zijn geplaatst, in Amsterdam/Rotterdam gemaakt, van de Seasence ex Heinz Schriewer?


---
Vandaag in Nvhn. Weer een herinnering verdwijnt.
Hoe vaak bij Tinus geen pilsje gedronken. Elke keer als we een avond overlagen. Vr gr Ab


Wie goed doet
Goed ontmoet
---
Berichten: 3417
Lid geworden op: 31 dec 2004 08:19
Locatie: Noord Holland
Vervallen
Laatst gewijzigd door
Evert Sikkema
op 16 apr 2018 19:07, 1 keer totaal gewijzigd.
As it tij ferrint, moat men de beakens fersette.
---
Een jaar of 3 geleden daar nog een pilsje gedronken met oud kustvaart-collega's.
Groeten,Arie.
---