Berichten: 7464
Lid geworden op: 30 dec 2004 16:02
Locatie: Fergus, ON
Contacteer:
Goed gezien Roy.
Het is de voormalige, HOLMSUND, MENOMINEE, gebouwd bij AB Lindholmens Varv at Gothenburg, in 1967.

Kathryn Spirit was built as Swedish-flag Holmsund in 1967 by AB Lindholmens Varv at Gothenburg, Sweden for SCA Transport, later SCA Transforest, the shipping arm of Svenska Cellulosa Aktiebolaget. Holmsund and her two sister ships Tunadal and Munksund were open hatch bulk carriers, with their own gantry cranes, designed for SCA's pulp and forest products exports, in a new integrated transport system utilising the company's own terminals.[3][5] Holmsund was operated by SCA for some 26 years and then sold to Swedish shipowner Gorthon Lines.

In 1997 Holmsund was sold to a Norwegian operator for service between the Great Lakes and Europe, and renamed Menominee.[1][6] McKeil Marine Ltd of Hamilton, Ontario purchased Menominee in 2006, renaming her Kathryn Spirit and transferring her to Canadian registry.[1]

She was primarily used for the transport of bulk commodities on the Great Lakes and Saint Lawrence Seaway. In 2007 Kathryn Spirit became the first ship to be used to ship wheat from the Port of Churchill to another Canadian domestic port, Halifax, Nova Scotia.[7]

het schip ligt daar al sinds 2012.

In 2011, after a period of lay-up, Kathryn Spirit was sold to the Groupe St-Pierre for scrapping. The company decided that they would carry out the demolition at Beauharnois in the Greater Montreal Area, Quebec, on the shores of Lake Saint-Louis. The mayor of Beauharnois opposed the operation, even though it would take place in an area zoned for industry, due to fears about environmental pollution.[8] His concerns were shared by Member of Parliament Anne Minh-Thu Quach.[9][10]

In August 2012, in the face of continued opposition from the municipality, the Quebec Ministry of the Environment and environmental groups, the Groupe St-Pierre decided to withdraw from the demolition project and resold Kathryn Spirit to the Mexican company Reciclajes Ecológicos Marítimos.[11] The American-owned, Bolivian-flagged tug Craig Trans, built in 1944, was hired to tow her to Mexico, but was detained at Halifax by Transport Canada due to safety deficiencies and poor living conditions.[12] The tug's crew were later repatriated with charitable donations, and the tug arrested by creditors.[13]

By May 2013 there were further delays in the departure of Kathryn Spirit, due to water ingress, lack of survey for the voyage and other environmental concerns, and a fear that lower water levels might prevent her departure until 2014.[14] In January 2016 the condition of the ship, unmoved, had deteriorated to a serious extent, causing concern about potential pollution of the St. Lawrence River.[15] A committee made up of federal and provincial representatives suggested that the ship be broken up without moving the ship.

-----------------------
wat de Montreal Gazette schrijft:

Government officials say an out-of-commission cargo ship languishing in Lac-St-Louis poses no immediate threat to the environment. Still, it would seem prudent to dispose of the rusting hulk — the sooner, the better.

The Kathryn Spirit, built in 1967, has been docked and decaying near Beauharnois for more than four years now. Concerns that it might leak toxic contaminants have been heightened by the recent bankruptcy of its Mexican owners. Equally worrisome, a local firm that had been hired to carry out minimal maintenance has abandoned the vessel, too, because it is no longer being paid.

The mayor of Beauharnois, Claude Haineault, says this is a recipe for an environmental disaster. Rain and snow are accumulating in the hold of the ship, and with all pumping operations stopped, he worries it might eventually capsize, releasing water tainted with oil and other pollutants into the lake and, by extension, the St. Lawrence River.

Aside from fears about risks to aquatic fauna and other wildlife — the area is designated as an environmentally protected zone — there are questions about the possible effects on Montreal's drinking water. Mayor Denis Coderre is sufficiently concerned that he's asked for a meeting with federal government officials. For his part, Haineault says he's repeatedly urged Ottawa and the province to intervene, to no avail.

This week, the Quebec environment ministry suggested fears are exaggerated, saying there are no contaminants in "significant quantities" in the ship's hold. The Canadian Coast Guard — which now has jurisdiction over the Kathryn Spirit — also played down possible risks. A spokesperson has been quoted as saying that the "majority of accessible pollutants" were removed in 2013, and the vessel is not discharging contaminants "in its current state." If it does leak, she suggested, the Coast Guard will "respond immediately in order to contain and remove the pollutants."

It's difficult to see how waiting will help. This is not a problem that will go away on its own. Sooner or later, what's left of the ship will have to be taken apart and sold for scrap, presumably after the ship is moved to a dry dock, to avoid the risk of a spill. The prospects of finding someone other than taxpayers to foot the bill seems unlikely, given that the previous owners are out of the country and bankrupt.


There are other risks to waiting. Haineault said the decrepit hulk has been the target of vandals, and given its precarious state, firefighters might not be able to board in the event of a blaze.

All the more reason to get the Kathryn Spirit out of there.
Vriendelijke groet
Jan.


Varen is noodzakelijk
Leven niet
---
Bedankt voor het uitgebreide antwoord Jan !.
Wat die politieke padvindertjes, die zich overdreven druk over het milieu maken, zelf allemaal niet aanrichten.............
Je zorgen maken om het milieu zijn natuurlijk zeer terecht, maar wat zijn de gevolgen van de politieke beslissingen voor de buhne !. Even verder kijken dan je neus lang is schijnt wereldwijd de grootste uitdaging voor de dames en heren poticie te zijn.
Een welhaast triester resultaat als je nu geschetst hebt kan haast niet gegeven worden.
Ja, de "Prestice" of de "Otopan" maar dat zijn weer andere trieste verhalen.
Gelukkig hebben we de herinneringen nog zoals het schip vast op de Eemshaven / Pernis voer..............

Nogmaals dank voor de gedane moeite.

m.v.g., Roy
---
Berichten: 7464
Lid geworden op: 30 dec 2004 16:02
Locatie: Fergus, ON
Contacteer:
Graag gedaan Roy.
Vriendelijke groet
Jan.


Varen is noodzakelijk
Leven niet
---
Berichten: 7464
Lid geworden op: 30 dec 2004 16:02
Locatie: Fergus, ON
Contacteer:
On Saturday, December 3, fresh cut Christmas trees will arrive at the National Museum of the Great Lakes, brought by the tug 'Josephine' and escorted by Santa!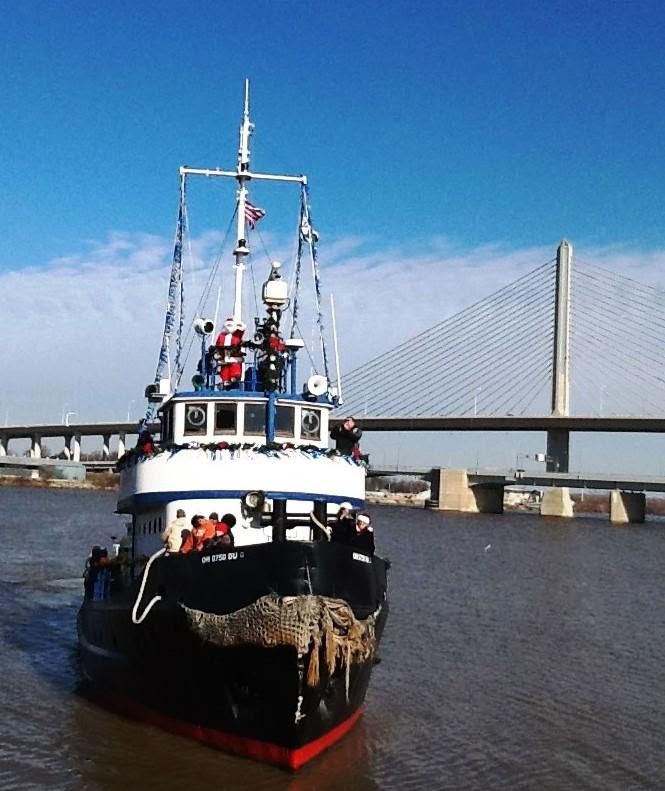 Josephine
de voormalige Nederlandse sleepboot 'Wambrau'.
Vriendelijke groet
Jan.


Varen is noodzakelijk
Leven niet
---
Jan zou nog steeds de bolnes er in staan ??
Welkom in ons maritiem museum in Westerende-Kirchloog.
---
Berichten: 7464
Lid geworden op: 30 dec 2004 16:02
Locatie: Fergus, ON
Contacteer:
Ja Joop, alles is nog orgineel.
Het doet dienst als jacht.
Mag geen werk doen in de VS, om dat het daar niet gebouwd is.
Vriendelijke groet
Jan.


Varen is noodzakelijk
Leven niet
---
Berichten: 7464
Lid geworden op: 30 dec 2004 16:02
Locatie: Fergus, ON
Contacteer:
Upgraded Welland Canal opens next Monday
3/15 - St. Catharines, Ont. – An upgraded Welland Canal and community celebrations will welcome the first ships to sail through the waterway. Top hat ceremonies and events planned in St. Catharines and Port Colborne will launch the opening of the canal and start of the shipping season next Monday.
The St. Lawrence Seaway has seen $90 million in upgrades and repairs during the off-season, while many of the ships that sail through it have seen about $70 million in upgrades.
In St. Catharines, the first upbound ship will be welcomed at about 10 a.m. at the St. Catharines Museum – Welland Canals Centre, starting the 188th anniversary of the canal and launching the 2017 shipping season. The ceremony will include a keynote address by Edward Levy, chief executive officer of Rand Logistics, a shipping company based in Jersey City, N.J.
At the south end of the waterway, Port Colborne Mayor John Maloney will welcome the captain of the first downbound vessel during a ceremony at Lock 8 Gateway Park, starting at 8 a.m. with a fair trade pancake breakfast.
The Mariner's Celebration will be held the night before, at St. James and St. Brendan Anglican Church, 55 Charlotte St., starting at 7 p.m.
The Chamber of Marine Commerce reported that seven shipping companies including Algoma Central and CSL Group invested in engine and generator overhauls, steel and mechanical work, navigation equipment, system hardware and software upgrades, and accommodation and safety equipment upgrades to the combined 143 vessels they operate within the waterway.
In a news release, chamber president Bruce Burrows called the investments an example of the economic boon provided by the shipping industry, even while ships are docked for the winter.
"Even in the off-season, Canadian shipowners and the St. Lawrence Seaway spend millions of dollars with equipment suppliers and repair businesses, helping to sustain well-paying, highly skilled jobs in communities all over the Great Lakes and St. Lawrence region," he said.
Work was done at ports throughout the seaway, including Port Colborne and Hamilton. Chamber spokesperson Julia Fields said additional work may have been done at other ports by companies that were not surveyed.
St. Lawrence Seaway Management Corp. investments in the Welland Canal include the reconstruction of the upper Lock 1 tie-up wall, rehabilitation of locks 1 and 7, bank protection, rehabilitation of lock and weir valves, repairs of Bridge 3A at Carlton Street in St. Catharines, new hands-free mooring units in the Thorold flight locks, as well as lighting upgrades.
Additional seaway upgrades were made along the waterway in Beauharnois and the St-Lambert Lock in Montreal.
St. Lawrence Seaway Management Corp. president and chief executive officer Terence Bowles said in a release the investments "ensure that our waterway continues to process ship transits safely, efficiently and reliably."
"With a system availability rate approaching 100 per cent over the last 10 years, the corporation and its staff have done an excellent job in managing the seaway's locks and channels, which form the core of a vital trade artery that connects the heartland of North America to markets across the globe," he said.
St. Catharines Standard
windows 7 print screen
Vriendelijke groet
Jan.


Varen is noodzakelijk
Leven niet
---
Berichten: 7464
Lid geworden op: 30 dec 2004 16:02
Locatie: Fergus, ON
Contacteer:
free image host
ALGOMA MARINER
image upload no registration
St. Lawrence River Montreal.
Foto: Will VanDorp
Vriendelijke groet
Jan.


Varen is noodzakelijk
Leven niet
---
Berichten: 7464
Lid geworden op: 30 dec 2004 16:02
Locatie: Fergus, ON
Contacteer:
Vriendelijke groet
Jan.


Varen is noodzakelijk
Leven niet
---
Berichten: 2990
Lid geworden op: 25 nov 2006 23:49
Locatie: m/s "Eemspoort" & Spijk (Gn)
Contacteer:
Hé, da's geen Chinees, maar een Kroaat! Leuk filmpje.
Ook leuk om de afmetingen eens in meters te zien. Krijg je een beeld van hoe groot die schepen eigenlijk zijn.
De grootste tanker hier in NL is niet eens zo heel veel kleiner, viel mij op.
De "Vorstenbosch" meet 147 x 22,90 x 5,40, 13.317 ton groot. Ofschoon Lakers zeeschepen zijn, geeft het wel een leuk perspectief.
De Vorstenbosch zou niet misstaan op de St. Lawrence Seaway als bunkerscheepje.
---